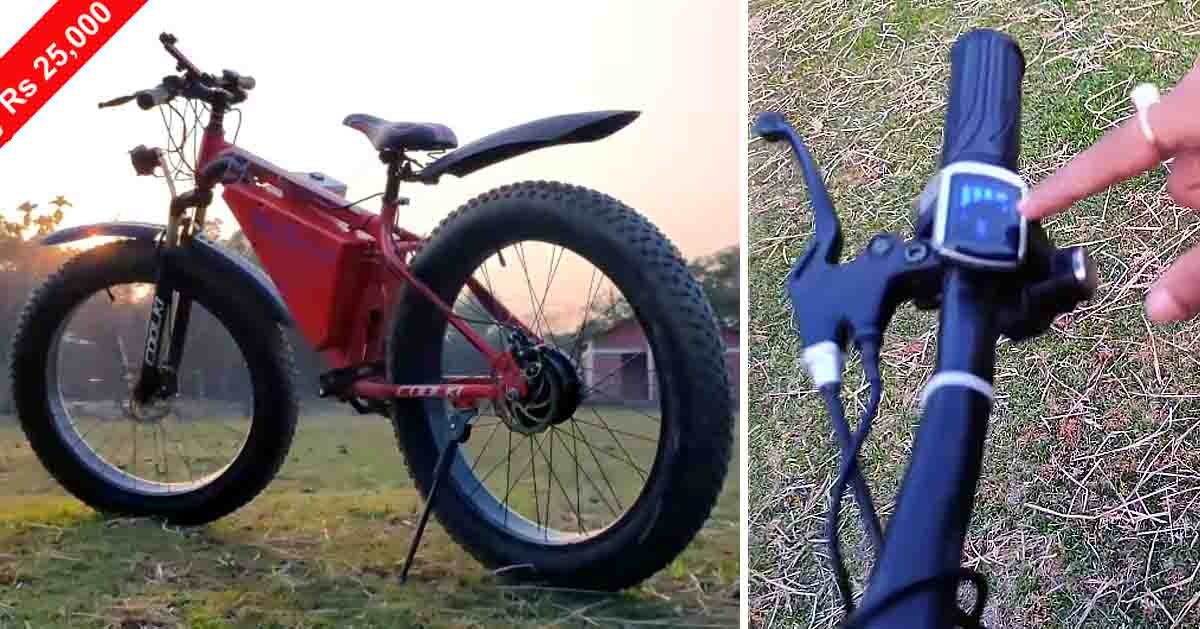 Village Boy makes e-bike with 60km range, fingerprint starter and more, costs Rs 25,000
We've heard the famous saying that "necessity is the mother of invention", and here's its real-world implementation.
This unique electric cycle has been developed with a fingerprint sensor for ignition and a range of 60 km. New electric vehicles are quickly becoming popular in India and they seem to be improving day by day. This is largely due to geniuses like Samrat Nath, who hails from a small village in Assam and recently approached us with the details of an in-house designed e-bike. The strengths of this electric vehicle are that it comes with a lot of modern features and equipment despite being built on a strict budget without any outside financial support. Let us check out the specs and details of this unique handmade e-bike.
You might also like: Honda Activa gasoline-electric hybrid offers ultra-low running costs
You might also like: Indian students invent an electric bike that NEVER requires recharging
Electric bike with fingerprint sensor and 60 km range
Samrat demonstrates how this electric bike works using his smartphone. He had been working on it for a long time because it was his passion project and it was a one-man show. The bike looks quite basic but has many functional and practical elements. Without a large reserve of financial assistance, little work had been done on the exterior and aesthetic appearance. It had tried to incorporate utility features like a fingerprint start system to prevent bike theft which is a common problem, a GPS tracking system to know the exact location of the bike at any given time, an anti-theft system who send notifications to the owner, an internet connection facility, and much more.
Samrat also mentions that the battery takes around 3-4 hours to fully charge and offers a range of around 60 km. With some improvements, this range could also be extended quite significantly. The cost of this bike is only Rs 25,000 and he has been using it personally for quite some time now. He wants to market it for which he is requesting funding to design a much more sophisticated version of this electric bike. What is even more interesting is the fact that Samrat is not an engineer and it is the result of an innovator inside of him.
You might also like: Simple One is now the longest range electric scooter in India
You may also like: Ola S1 Pro Owner Shares HONEST Review of e-Scooter
The dedication and manual labor that Samrat has put into this affordable and sustainable solution must be commended while encouraging people to purchase electrified mobility solutions. With adequate and appropriate investors and backing from big business or government, this could certainly become a viable solution to combat skyrocketing fuel prices and increasingly stringent emissions regulations.
Join our official telegram channel for the latest free updates and follow us on Google News here.