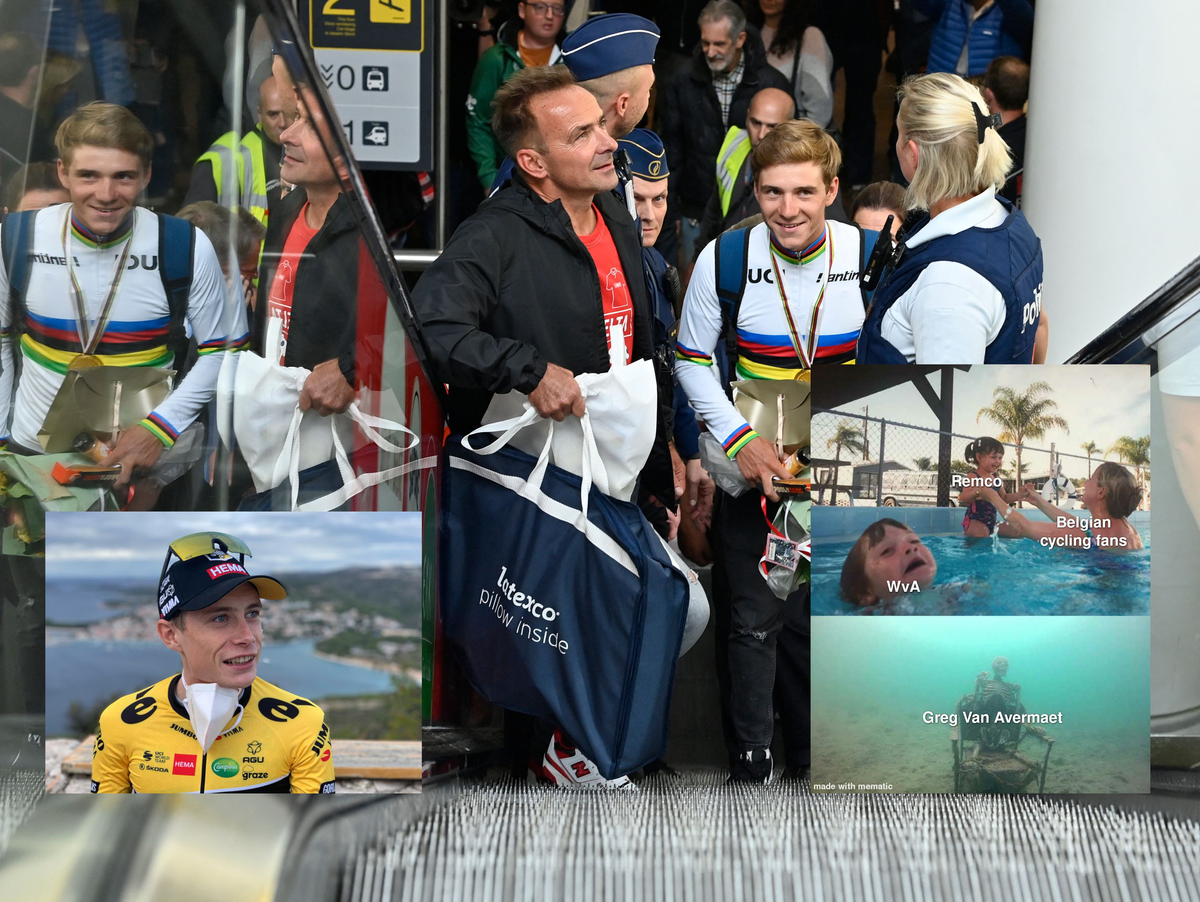 Tweets of the week: Jonas Vingaard smiles and Remco Evenepoel has a business dinner
The end of the cycling season is heading our way with frightening speed. With just one WorldTour race and one Women's WorldTour race left, the rainbow jerseys have been split and relegation looks all but certain for a few men's teams. It's that time of year when things might start to look gloomy for some, as the nights approach in the northern hemisphere.
Have no fear, however. Because not only is the Tour Down Under only four months away, and Omloop Het Nieuwsblad only five months away. I'm sure the time will pass quickly (maybe not, really). During the fallow period, we will have to make do with social media content, which never seems to stop or take a break, unlike racing. In fact, there's so much high-profile content to come that the poor author of this piece really needs to think about what to include in his hilarious roundups.
You might be thinking "what's the point?" and that would be a good question, but here's some content that should keep you entertained on those cold, wet fall days. It's Friday! Just enjoy it.
1. First of all, we have to say that all of us at Cycling Weekly send our solidarity to Iain Treloar of Cycling Tips, who was denied access to the World Championships for the wrong reasons.
2. Let's move on to less serious matters. How long can Ellen van Dijk enjoy the exciting prize she received from EasyToys earlier this year?
4. Geraint Thomas is 36 years old. He won the Tour de France and finished on the podium twice. He doesn't need to do the 'CRO Race', but here he goes. Unlucky
5. Do you remember Greg van Avermaet? He won gold at the 2016 Olympics, then Paris-Roubaix the following year. He was once the future of Belgian cycling. Now it's all about this Remco character…
6. Speaking of Remco Evenepoel, I think there are about two years between these two photos of him in rainbow stripes
8. Eritrean fans are great, aren't they? One of the people below seems to have grown a boombox, which is very clever
9. Where was Jonas Vingeard? He is known to not have many hobbies, so he was probably just hanging out with his family. A hunt was on to find him.
10. Don't worry! Here he is, looking uh, the happiest man alive (?) after winning his first race since the Tour de France. If that's the best smile he can do…the mind is mind blowing
12. Marc Sergeant had choice words for someone, who could it be? Probably his successor at the head of Lotto Soudal, John Lelangue
13. A text message sent to Patrick Lefevere by Dave Brailsford sparked wild Remco transfer rumors, and this parody might even have fooled a few people…
14. Patrick Lefevere was on hand to quash those rumors, however. What a fun business dinner that looks like!