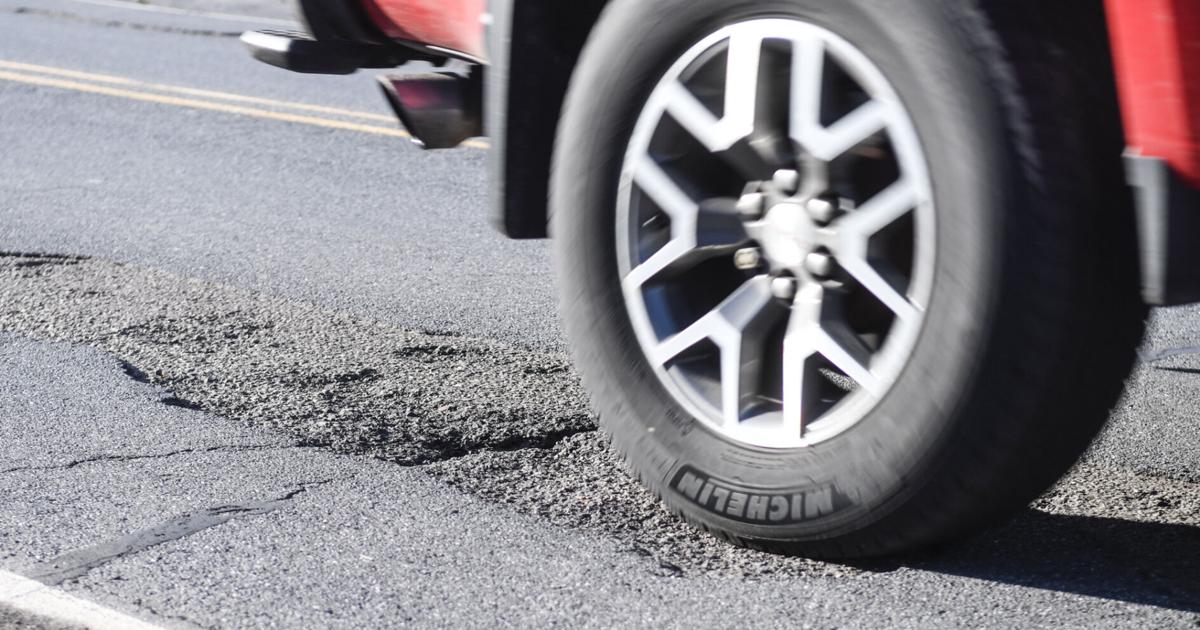 Township Officials: Bloom Road Repairs Suspended | Danville News
MAHONING TWP. –When resident Linda Rea asked township officials last week if they knew when PennDOT was going to fix Bloom Road, Supervisory President Bill Lynn told her what she probably didn't want to hear.
Lynn said state Department of Transportation officials last told her that the milling and repaving project on the busy thoroughfare would not happen until late 2023, early 2024. or even at the beginning of 2025.
"Since the rain and ice, it's gotten worse," Rea told supervisors at their Feb. 14 meeting. "They have to replace the whole road."
"Everyone is screaming about it," Lynn said Wednesday. "They think it's our road."
Bloom Road is a state road and PennDOT is responsible for its maintenance and repair, although Lynn lobbied PennDOT to move the project forward.
PennDOT microsurfaced the road approximately three years ago with a thin protective layer of asphalt emulsion mixed with finely crushed stone. Microsurfacing, or microsurfacing, is designed to extend the life of the pavement.
In Bloom Road's case, it didn't last the five years that PennDOT expected it to. Today, Bloom Road is marked in places with divots in the asphalt or lined with vein-like cracks that cross each of the two lanes. Drivers familiar with the road tend to drive near the fog line or near the center of the road to avoid potholes, Lynn said.
"I drive this road like other people drive it – like a snake," supervisor TS Scott said. "That's what people do."
Lynn said heavy trucks, mostly tractor-trailers making deliveries to Geisinger, are criss-crossing the road.
"There are at least half a dozen tractor-trailers a day," Lynn said. "It's gotten worse over the past few months. They (PennDOT) have been salting it, putting stuff on it, plowing and censing it. It's going under the microcoating.
The last time PennDOT milled and paved Bloom Road, a state-owned road, was in the late 1980s or early 1990s, according to Lynn.
"It's starting to get bad in front of the township building," he said. "The worst is between Sunoco and before the fire company (East End). When it rains and water pools there, about an inch of micro-coating comes off and splashes on the houses.
Lynn said PennDOT plans to redo Bloom Road from the Danville Borough line to Diehl Street, just past Kaseville Road.
"They go to work at night," he said.
The township also has grants to rebuild traffic signals and add turning lanes at the intersection with Academy Avenue near the entrance to the Geisinger campus. PennDOT awarded the township $351,140 to upgrade traffic lights at the intersection. The project, which township engineer Drew Barton says could cost between $400,000 and $500,000 including engineering and inspection, would also include timing equipment, pedestrian improvements and law enforcement. American on people with disabilities, weapons, foundations and controllers.
Pedestrian and cycle pathsWhen PennDOT finally rebuilds and resurfaces Bloom Road, the township plans to add walking and biking trails on either side.
"We've been working on this for a long, long time," said Scott, who first proposed the roadside trails a few years ago.
There were other priorities, however – water mitigation, rebuilding the collapsing Bald Top Road, and other projects. The township has repeatedly applied for grants to add cycle and pedestrian paths.
"Meanwhile, we were working with our engineers," Scott said. "We had good support with PennDOT."
Township officials learned in November that they would receive a $700,000 grant from the Commonwealth Financing Authority's Multimodal Transport Fund to build the roads.
The Bloom Road package includes improvements to 5,400 linear feet of roadway, including bike lanes on both sides of the road and a pedestrian walkway, possibly just on the north side of the road.
Supervisor John Whelan said state law requires a bike lane on both sides of the road because bikes are meant to follow the flow of traffic, but initial plans are to build the pedestrian lane only on the north side.
"Maybe some areas might not be able to have footpaths or walking paths on both sides," Scott said.
The sidewalks along the road only extend five blocks, about half a mile, from the Danville borough line. They end abruptly at Ardmoor Avenue, but walkers and joggers still roam the shoulders of Bloom Road far beyond. Bloom Road continues nearly four more miles into the township.
Lynn said the paths would run from Ardmoor to Meadow Avenue.
"I don't know if we're going to go any further," he said. "If we have to start moving telephone poles, I really don't want to spend taxpayers' money on that."
As for the project schedule, Scott said PennDOT has already promised to do other work. He said the township must also complete the road engineering.
"The earliest we could be ready is 23," he said.
He added that the possibility of war in Ukraine could affect the price of oil, which is used in paving materials.
"The one thing I can say for sure is that it's not going to happen this year," Scott said. "Neither we nor PennDOT are ready."
Both Scott and Lynn said PennDOT would likely fill in the holes on Bloom Road to make it a little smoother for motorists until the project is complete.