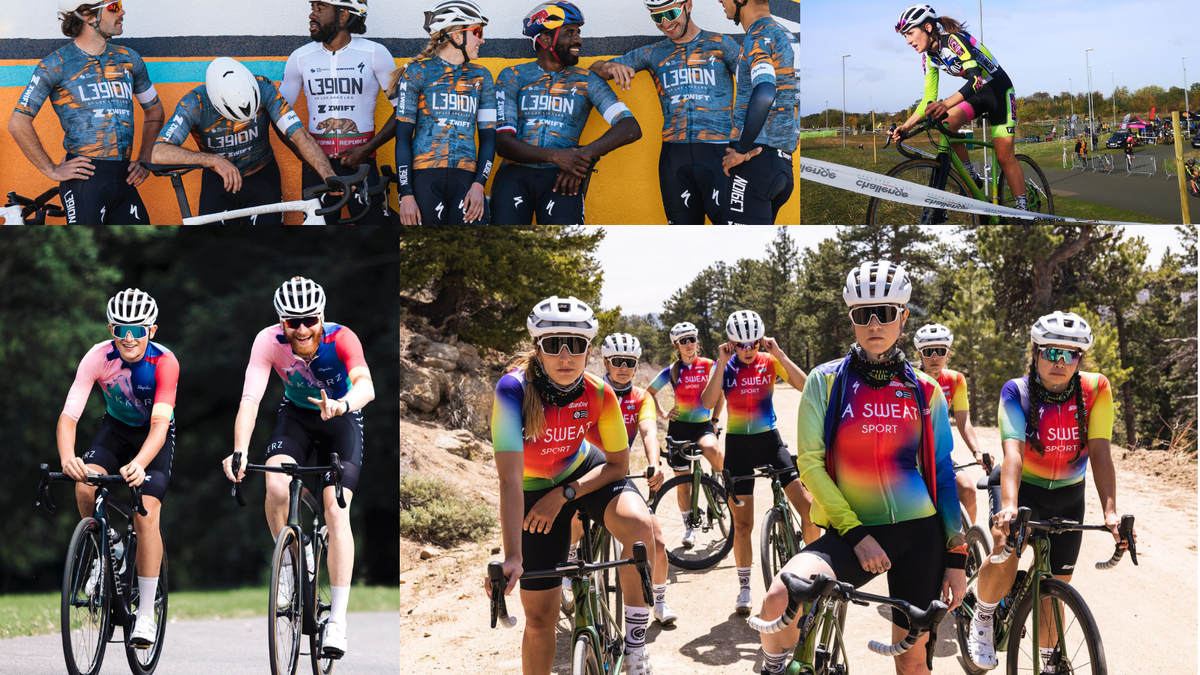 Ten alternate kits with more flair than (most) WorldTour would know what to do with
Designing a WorldTour team kit can't be easy.
First and foremost: you have to appease the sponsors. Along the same lines comes the loading of logos in prominent positions, without creating a jersey that appears to mimic a train station billboard. You'll have to get a nod from the UCI and somehow, out of all of that, create a kit that riders will want to wear. There are a lot of constraints – and some designs work better than others.
Out of the WorldTour comes a world of freedom. Straight lines are replaced by bursts of color, gloriously messy drips of paint and expressive rainbows of color. The greatest examples of this can be seen in the areas of cycling where the limits are pushed: gravel racing and the critical scene are the most prominent examples.
That's not to say there aren't WorldTour teams that have pulled a leaf out of the 'alternative kit design' book, see: EF Education's Giro 2020 kit (for which they were fined fined £3,700 by the UCI), and most recently Canyon-SRAM's all-new 2022 gear.
However, the reality is that in this case, the pros imitate the stars of creative cycling.
Our list contains "we don't want to be ranked" teams, clubs and groups of all types and levels. Some feature riders who have raced at world championship level, others are more likely to disappear on your local gravel track.
What they all have, however, is proper vibey kit.
Tekkerz
London-based team Tekkerz promise to load the critics' scene with "cycling charisma", a quality that – let's be honest – is sorely lacking in a sport perceived by most to be primarily about the alter of MAMIL culture.
The brainchild of Alec Briggs, Tekkerz has hosted stars such as Elinor Barker and World Paralympic Tandem Champion medalist Jenny Holl.
The team is supported by a long list of sponsors, but the dinosaur designs take center stage.
L39ION of LA
LA's L39ION has yet to unveil its 2022 kit, but if it looks anything like the 2021 collection, we're in for a treat.
The most often cited example of America's growing critical scene, L39ION is a professional team, which describes itself as "dedicated to increasing diversity, encouraging inclusion and giving fans access to their athletes. favourites".
Applause from us on all counts.
Steezy Collective
The Steezy Collective first caught our eye when its riders competed in the popular 2021 Rapha Women's 100 race.
It's hard to sum up the ethos of a diverse group, but Rapha described them as "a pioneering group of women helping to change the face of cycling" and "an inclusive cycling collective representative of all cycling disciplines".
The London-based collective welcomes women, non-binary cyclists and trans men. The 2022 kit hasn't arrived yet, but designed by Rapha, it looks pretty awesome.
NeighborhoodCC
"We Are Neighbourhood. Everyone is welcome here," say the Brighton-based club.
Founded by Jake Vita, it is attached to the new LAKA x Pedal Mafia Race Team, a men's and women's team with a goal of 50/50 parity. It turns out that the candy corn-inspired training kit really pops.
LA Sweatshirt
Team USA LA Sweat describes itself as a "women's cycling team that proves you can be feminine and strong as hell" it's amazing anyone thinks otherwise, really, but ingrained attitudes can put a certain time to die.
Setting out their goals, the team says: "In a culture of power profiles, recovery tights and carbon bottle cage bolts, it's good to remember that there are still women out there who just want to go. fast and have fun. Because bikes are fun. . Riding is fun. Racing is fun. Oh, and winning races once in a while isn't too shabby either."
LA Sweatshirt really rocks pops of color, a choice we're sure is very on-trend and suitable for female figures in all their unique, varied and celebratory shapes.
Bike Jukebox
Once again, Jukebox Cycling prides itself on avoiding the status quo. Their slogan puts the goal on the tin: "A different kind of cycling team."
The stars include the title behind "the worst retirement ever", Phil Gaimon, cyclocross champion Ruby West, and Xander Graham, the 12-year-old who had his moment of glory after riding alongside the peloton of the Tour of Britain.
"Our riders are visionaries, rule breakers, inspirations, badass – they are riders with that certain X-factor that sets them apart from the rest of the peloton," says Jukebox. No pressure guys and girls.
Congratulations on the matching helmet cover: aero and sleek.
NLTC (North London Thunder Cats)
Well, the full title is 'NLTCBMBC (North London ThunderCat Black Metal Bicycle Club)', but we thought that might blow your mind.
Founded following "a drunken conversation in a North London pub in 2012" (remember the days of non-social distancing, in pubs?), the team specializes in gear reviews fixed – and apparently – pizza consumption.
They don't just run around and create really weird cameo kit launches, either. The team also gives back by hosting mega races – such as ThunderCrit, ThunderTrack and ThunderCross.
NLTCBMBC opted for black and gold tones, forgoing much of the color we've seen elsewhere. However, for a club with "Black Metal Bicycle Club" in its name, was there another logical choice available?
BIKE ViCious
Who are they? In their own words: "Inspired by early punks, ViCiOUS VELO is a group of cyclists and racers who love cyclo-cross and road racing. Don't call us a club or a team, we are neither. We have no rules. and no team orders. You are either with us or against us.
The anarchic vibe in the UK is real, and in the spirit of 1977 (well, actually, 1976), we even let them override weekly cycling graphic charter by reproducing in capital letters 'or not an acronym'; WorldTour teams (and brands with an apparent disregard for vowels) aren't given the same leniency.
Shiny moments include the "I'm so bored with the UCI" merch the no-club-not-team once produced, though we can no longer sing "with the USA" on the soft tones. of Joe Strummer without mutilating (or, getting better, you decide..) the words.
Velociposse
Velociposse was launched in 2015, as a women's track cycling team. In 2017, it reformed as a member-run club, and that might indicate there's a "vibe" section on its "about us" page.
"Chill, fun, friendly and supportive" is the ambition of Vélociposse. "There's no pressure to run but lots of encouragement if you're up for it."
Challenging the status quo in his London (and Essex) home, Velociposse says: "We recognize that cycling can be an elite sport, and we are doing what we can to change that and improve the representation of minority groups."
The team runs various skills sessions and, recognizing that cycling is a sport with an obvious financial barrier to entry, maintains a fleet of Aventon track bikes ready for beginners to try out their first pedal strokes.
The kit has evolved over time, with its wearers moving away from the 'Brutal Woman' slogan of the early days (although, from a personal perspective, we rather like it!). Bold pink tones, of course, remain.
VC.LetsGetIt
Alright, I'm cheating now.
VS.LetsGetIt is not a team and does not have a kit; but the social media account earns its place here because – like other initiatives that have come before it – it is redefining cycling culture, one reel at a time.
VC.LetsGetIt bases its name on London club VC London (VCL), which alongside Herne Hill Velodrome can proudly boast the title of "Britain's Medal Factory" for its ability to turn young hopefuls into makers of history .
What keeps VCL fresh? Well, in part, the incredible volunteer spirit of its members. But also, the community effort to secure cycling – a sport sometimes hampered by stale attitudes, dusty party halls and club status – continues to appeal to a new generation. And I challenge you to watch a few VC.LetsGetIt reels, and not feel an extreme urge to sign up for a race next weekend.