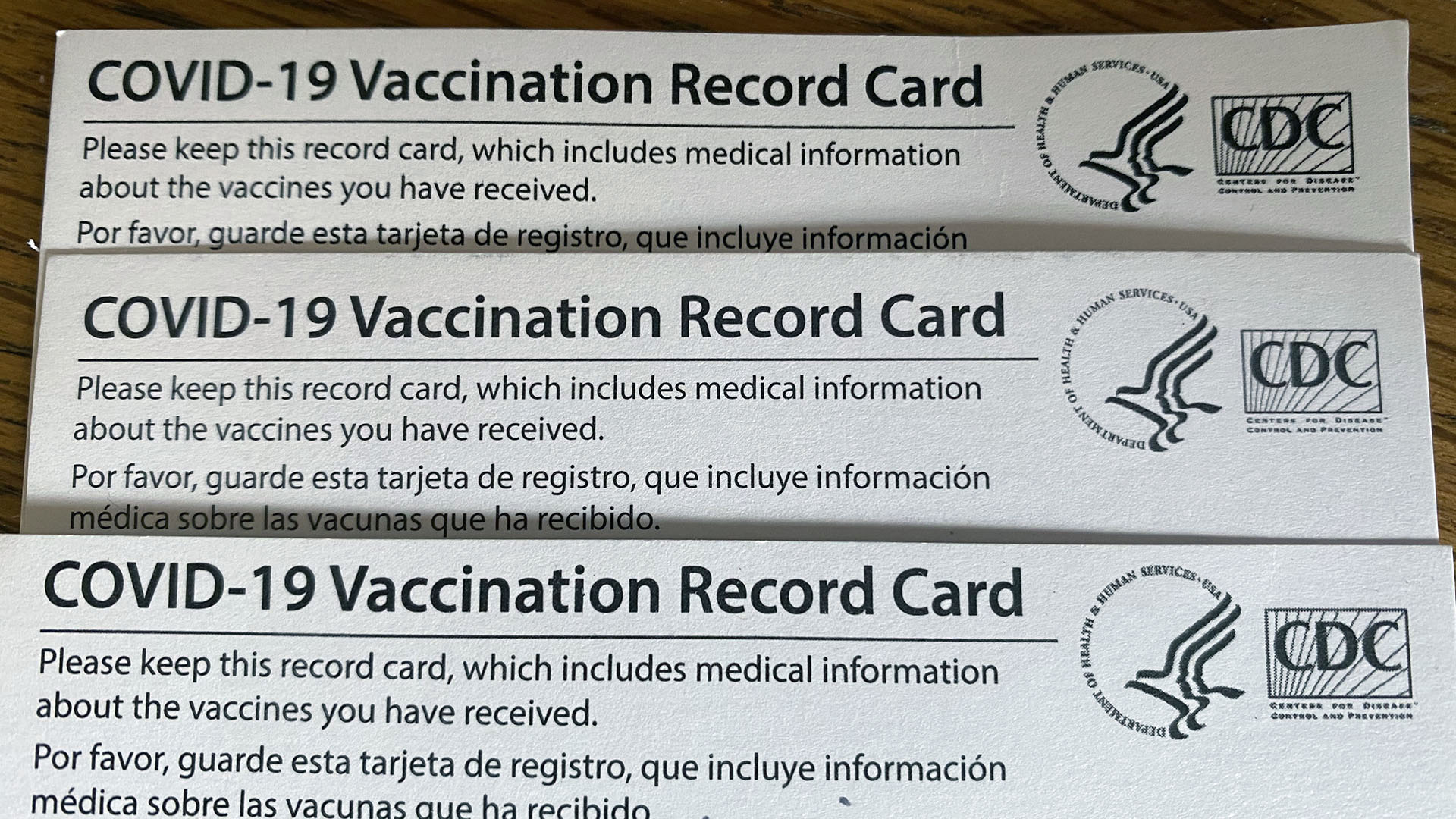 Suburban Cook County to Require Proof of COVID-19 Vaccination | Chicago News
Individuals receive a COVID-19 vaccination card when they are vaccinated. (Kristen Thometz / WTTW News)

Starting January 3, all customers aged 5 and older entering restaurants, bars, gyms and cinemas in suburban Cook County, among others, will be required to show proof of COVID-19 vaccination.
"Earlier this year, we were hoping to be on track to finally put the pandemic behind us," Cook County Board Chairman Toni Preckwinkle said at a press conference Thursday morning. "But sadly, with the dual threat presented by the delta and omicron variants, and with cases, hospitalizations and deaths reaching new heights in Cook County, we once again need to reassess and realign our strategies with what science tells us. "
The suburb of Cook County has 548 new cases per 100,000 residents and a test positive rate of 7.8%, officials said.
"We are starting to mirror what we saw a year ago with the outbreak seen last winter," said Dr Kiran Joshi, co-head of the Cook County Public Health Department.
According to officials, the intensive care capacity is 10.8% of available beds.
"We are concerned about the impact of the increase on our hospitalizations," Joshi said.
Earlier this week, Chicago city officials announced that similar proof of a vaccination requirement would begin on January 3.
Restaurants, bars, brasseries, wine tasting rooms, cinemas, bowling alleys, hotel ballrooms and conference spaces, private clubs, concert halls and stadiums are among the places covered by the order.
"All places where food and drink are served must require vaccination documents," said Dr. Rachel Rubin, CCDPH co-lead.
Gyms, fitness centers, yoga and cycling studios, sports fields, health clubs and hotel fitness centers are also covered by the order. Fitness centers in offices and residential buildings reserved for tenants and residents are exempt. Not exempt? "A party room where outside people will participate," said Rubin. "Then you will need proof of vaccination. "
Individuals can show proof of vaccination via their CDC COVID-19 vaccination card, an official vaccination from the location where the vaccine was administered, or photos of a CDC card or vaccination record. Apps that provide digital records of vaccinations can also be used, officials said. People 16 years of age and older must also provide some form of identification, such as a driver's license, passport, or government ID.
Like the city order, there are exceptions. Places of worship, schools and charitable food service establishments such as soup kitchens are not covered by the requirement.
People who drop off and collect a takeout or delivery do not need to show proof of vaccination, or if they stop to go to the bathroom, if the visit is limited to 10 minutes or less.
Employees at facilities covered by the decree can opt out of vaccination by testing for COVID-19 weekly, and employers must keep track of those who are not vaccinated and get tested weekly, officials said.
In addition, businesses must post proof of vaccination at entrances as well as in visible places within the facility, officials said.
Proof of vaccination – at this point – is defined as two weeks after receiving the second dose of a two-dose vaccine (either Pfizer or Moderna) or two weeks after receiving the single-dose Johnson & Johnson vaccine. However, officials are adhering to the Centers for Disease Control and Prevention's definition of fully immunized, which may change to include a booster.
Authorities did not say how long proof of the vaccination requirement would remain in place.
"We will re-evaluate the order on a weekly basis," Rubin said. "As we see such an incredible increase and spike in cases, we need to put in place mitigation measures, and our hospitals are also under heavy demand right now. We need to see improvements – significant (improvements) – in lesser cases every day … and (ensure) that our hospitals and health facilities are not stretched to the limit as they are now. "
State and county ordinances require masks in all indoor public places, unless someone is actively eating or drinking. The mask's mandate remains in effect.
Contact Kristen Thometz: @kristenthometz | (773) 509-5452 | [email protected]
---