Joss Lowden's hour record LIVE: updates as British rider grabs prestigious track record
Refresh
Check out the full story of the Lowden Ride here:
Joss Lowden breaks the hour record
Lowden set a new record of 48.406 km in 60 minutes, breaking the previous record of nearly 400 m.
Here's what Lowden had to say after breaking the women's hour record:
Relieved but also I think I was a bit dramatic. It was really worrying and the nerves were at their extremes, a lot of self-doubt but in fact it was not so bad.
When I got back from altitude at the beginning of September, I just remember thinking "oh my God", you start to question your preparation, I started to wonder why I did it on the back of three races at the World Championships. A lot of people have said that this is not a good preparation for the Hour and they were not wrong, it was not. But it was enough to do what I wanted to do and what I had to do. I'm happy with the way it went. I'm glad I completed my plan.
It's so easy to say it in hindsight, but I started and I knew I could break the record comfortably in theory, so I just had to believe it, I knew if I sat under it everything would be fine. good.
There was a point when Dan told me to go ahead and you can put this on the shelf. I thought 'am I going or am I playing it safe?' I went somewhere in the middle. In terms of the face of the game, there have been ups and downs. I can certainly be quite calm on some days. I had a really good team that supported me with Dand and my parents, my trainer Sean, Le Col, all my friends.
Joss Lowden is the new holder of the women's hour record, having surpassed Vittoria Bussi's previous record by two laps.
Absolutely breathtaking stuff at the Velodrome Suisse in Grenchen.
48.4 km! She broke the record of around 400 meters. Absolutely phenomenal ride.
The last 20 seconds and she broke the record
SHE DID IT ! Joss Lowden broke the hour record
There is one turn left! there is less than a minute to go.
Two more laps are all she needs to cover in the next minute.
Only 1,008 m to beat the record! Last 90 seconds!
She did 184 of the 192 laps she needs to break the hour record.
Only two minutes left, the finish is in sight but she is 28 seconds ahead.
45km traveled! four minutes to cover 3km now.
Fantastic stuff. She is starting to suffer now as she crosses the track and rocks left and right in the saddle.
Only five minutes left! 44km traveled, it has only 4km to go.
Lowden had a clear round here, 27 seconds ahead of the record.
177 laps of the Swiss Velodrome to date.
In the last 10 minutes! This is where it really hurts. Nine minutes this far down the road is going to seem like an eternity, but Lowden looks like he's on the verge of breaking the world record.
41km covered in 52 minutes, average speed of 48.399km.
She has to cover 48,007 km, but she is 26 seconds ahead of the pace she needs to break the record.
Until the last 12 minutes now and Lowden is 39 km away. She is still comfortably in the pace of the world record, maintaining 25 seconds ahead of the pace she needs to break the record.
158 laps covered in 48 minutes.
Lowden is still tearing this trail apart.
34 km covered in the first 42 minutes, and she is 20 seconds ahead of a record pace.
Average speed of 48.3 km / h for the first 137 laps.
It sounds like a record pace. 18 minutes remaining.
Halfway through this #LeColHour and Lowden looks pretty comfortable, still holding 18.4 laps fairly consistently now.September 30, 2021
See more
Halfway through for @JossyLowden! 🚨Average speed: 48.184km / h 🤯 # GoJoss # UCIHourRecord📸 @HuntlyCaptures pic.twitter.com/vM1VcpvlkBSeptember 30, 2021
See more
We just passed the 100 laps mark, amazing Lowden stuff.
Lowden has just reached halfway! 30 minutes driven and she has driven 24km so far, the average speed is 48.1km / h.
It needs an average of just over 48 km / h to break the record and it is 11 seconds ahead of the WR pace.
Still as stable and fluid on the bike as she continues to increase the effort. It really is a phenomenal race.
Either 24 minutes driven, Lowden has driven 19 km so far with an average speed of 48.092 km / h.
She is seven seconds ahead of the record pace, it feels like a phenomenal race as she continues to pick up speeds.
Wow so far this has been an exceptional race.
We have just passed the 15 km barrier, 61 laps.
Lowden is five seconds ahead of the world record, averaging 47.9 km / h so far, as she continues to gradually increase the pace.
11km after the start, 14 minutes have passed! This makes 45 laps of this track in Switzerland.
Lowden is really ramping up now, she is 3.4 seconds ahead of the world record pace so she could be on track to break the existing record if she keeps that pace.
Lowden has to beat 48,007 km to break the record.
Here's a video of Lowden's debut:
And she's gone! She has to travel over 48,007 km in the next hour if she is to win the hour record! #GoJoss @LeColUK pic.twitter.com/IGIJXrCFqDSeptember 30, 2021
See more
She has just cut the pavement slightly inside the track, a brief moment but she seems to have recovered and is still in a good rhythm.
Now picking up speed, she is 1.4 seconds ahead of a record pace and seems comfortable.
Remember that the current record is just over 48km covered in 60 minutes.
This record was also set aloft at Aguascalientes, when Lowden is nowhere near as high above sea level, showing just how strong she must be.
Lowden has averaged 47.193 km / h so far after 25 laps, she is 0.7 seconds ahead of the current world record pace, so she is accelerating now.
Eight of the 60 minutes so far.
14 laps behind for Lowden, 3.5 km covered in 4-49.
She is just 0.139 faster than the record at the moment. It looks like Lowden is trying to ride as close to the record as possible in the opening section, before cranking up the power later in the rider to try and save some extra time.
In the fourth round, Lowden is very slightly ahead of the target, 0.3 seconds.
But with such a long way to go, that's no indicator of how that right might go. She traveled 1.5 km in the first two minutes.
Lowden is up to the task and in position, 32.3 km / h on average for this first lap.
It accelerates now, up to 38.6 km / h.
5, 4, 3, 2, 1, and let's go.
60 minutes alone with the track, it's such a brutal challenge.
She is now in the starting grid, looking tense but ready to go.
10 seconds and count.
The first lap of an hour record is a very difficult balance, as you have to put in the necessary power to accelerate as quickly as possible, but without straining too much you will suffer later in the race.
This is the highest horsepower you will achieve in the entire race, but what is the perfect amount? Lowden will have spent hours perfecting every detail of this ride.
Lowden is in the middle of the track and is working out the final touches of his preparation.
She's fully equipped, a little chalk on her hands, and she's on the trail.
Our writer Jonny Long spoke to Lowden at the world championships earlier this month, where Lowden spoke about the record.
Here's what she had to say: "I'm a little intimidated, you kind of start to think 'ah, that's a pretty big statement', like when you go for an hour record you say in sort of "I'm better than any other woman that's come before me who's tried this" and sometimes I think that's really a statement I want to make? My style is more to go under the radar and d 'go do it quietly and then go' that was fine '.
"But you kind of realize people want to see it because it's exciting and it's a good thing for women's cycling… there's so much hype around the men doing it. other women do I mean if you sent Ellen [Van Dijk – the new women's time trial world champion] going out to do this album, that would be amazing, I mean, give me a moment with that first … if I get it. "
Lowden's partner and aerodynamics expert Dan Bigham just hit the track with Lowden's bike.
Dan will face his own hourly record tomorrow as he tries to break the UK record.
But today it all revolves around Lowden, who hopes to make history.
For kit lovers, we also have the full list of gear Lowden will be using, including the now famous POC Tempor helmet.
Here is the breakdown:
Framework: Argon 18 Electron Pro
Wheels and tires: FFWD-T SL disc, Vittoria Pista Speed ​​2.0 23c
Pedals: Speedplay Aero
Crankset: Wattshop Cratus with Izumi KAI chain
Gear: 64×15
Bar: Wattshop Pentaxia Olympic with Wattshop Anemoi extensions
Case: Le Col x McLaren Project Aero suit made to measure
Helmet: Temporary POC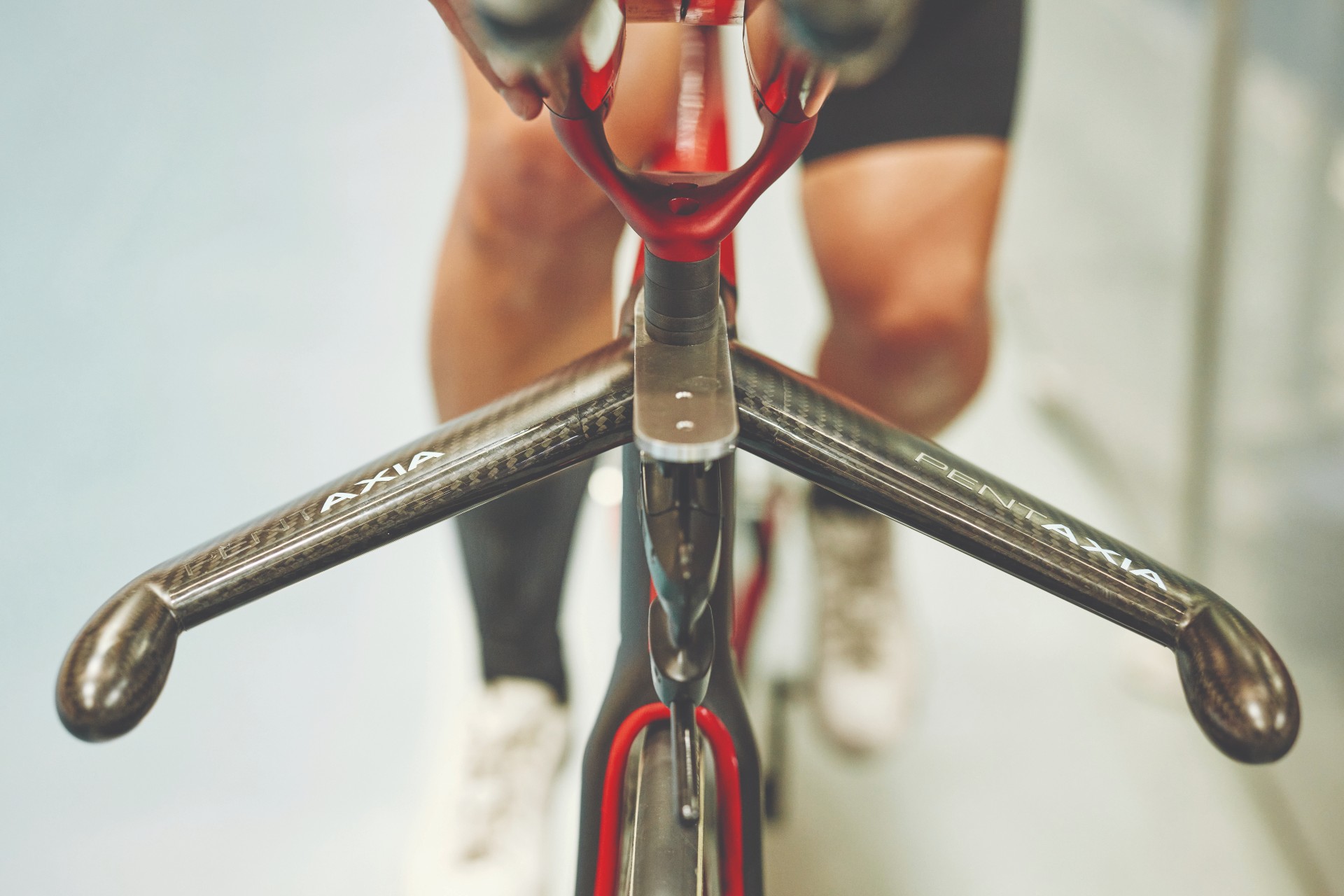 Lowden's target is 48,007 km, which she set aloft at the Aguascalientes Velodrome in Mexico in 2016.
Afternoon guys!
Alex Ballinger here, digital news editor for CyclingWeekly.com, bringing you live updates from Joss Lowden's hour-long record attempt.
Lowden should start at 4 p.m.!