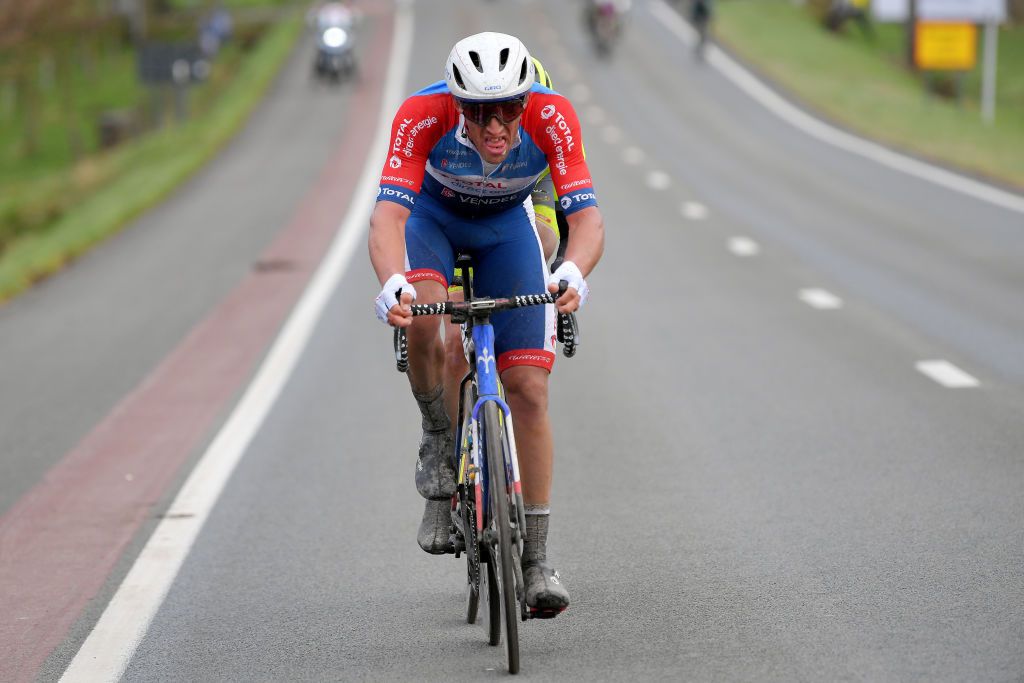 Gaudin announces his retirement from professional cycling
Damien Gaudin has announced his retirement from cycling after fourteen seasons as a professional. The 35-year-old raced for TotalEnergies in 2021, when he finished second to Nokere Koerse, but his contract was not renewed at the end of the season.
A solid rider with track experience, Gaudin won six races as a professional, notably the prologue of the Paris-Nice 2013 and the Tro-Bro Léon 2017. In 2013, he also landed a nice 5th place at Paris-Roubaix , a race he had won in the Under-23s six years earlier.
Gaudin made his amateur career in Vendée-U before advancing to professional ranks in 2008 at Bouygues Telecom. He will remain under the direction of Jean-René Bernaudeau for the first six seasons of his professional career, as he mixes road and track.
He was part of the France team pursuit team which placed 5th at the Beijing Olympics and has won the French individual pursuit title three times.
Gaudin had a decisive season in 2013, securing his first professional road victory in the 2.9 km time trial at Houilles on the opening day of Paris-Nice. Two weeks later, he landed at Cholet Pays de Loire before crowning a beautiful spring with an offensive performance at Paris-Roubaix.
At the end of the season, Gaudin left Bernaudeau and Europcar for AG2R La Mondiale, but he never reached the same individual highs during his three seasons in Vincent Lavenu's team, despite making his debut on the Tour de France with the team. Gaudin however experienced a return to form when he moved to continental level with the Army in 2017, when he won the Tro-Bro Léon and the prologues of the Tour du Luxembourg and the Tour de Portugal.
These results earned Gaudin a return to Bernaudeau's squad, which now runs under the Direct Energie banner, and he again won the Tour de Luxembourg prologue in 2018, when he also made his second appearance on the Tour de France.
TotalEnergies will undergo a sort of overhaul in 2022 with the arrival of Peter Sagan from Bora-Hansgrohe, accompanied by Daniel Oss, Maciej Bodnar and Juraj Sagan. Gaudin was not offered a new contract at the end of the 2021 season and he chose to end his professional career.
In a video posted to social media on Wednesday, Gaudin displayed the jerseys he had worn and the medals he had won during his career, and he thanked his team leaders for their trust over the years. .
"At the end of this year 2021, I announce that I am ending my career as a professional cyclist. A big thank you to all of you for having followed and encouraged me during all these years ", wrote Gaudin." Thank you to Jean-René Bernaudeau, Vincent Lavenu and David Lima Da Costa for their trust and thank you to the three clubs who have supported me. supported: Beaupréau Vélo Sport, Vélo Sport Valletais and La Roue Libre Andrezéenne Thank you also to the various selectors for the great adventures within the French road and track teams.
Thank you for reading 5 articles this month * Register now for unlimited access
Enjoy your first month for only £ 1 / $ 1 / € 1
* Read 5 free articles per month without subscription