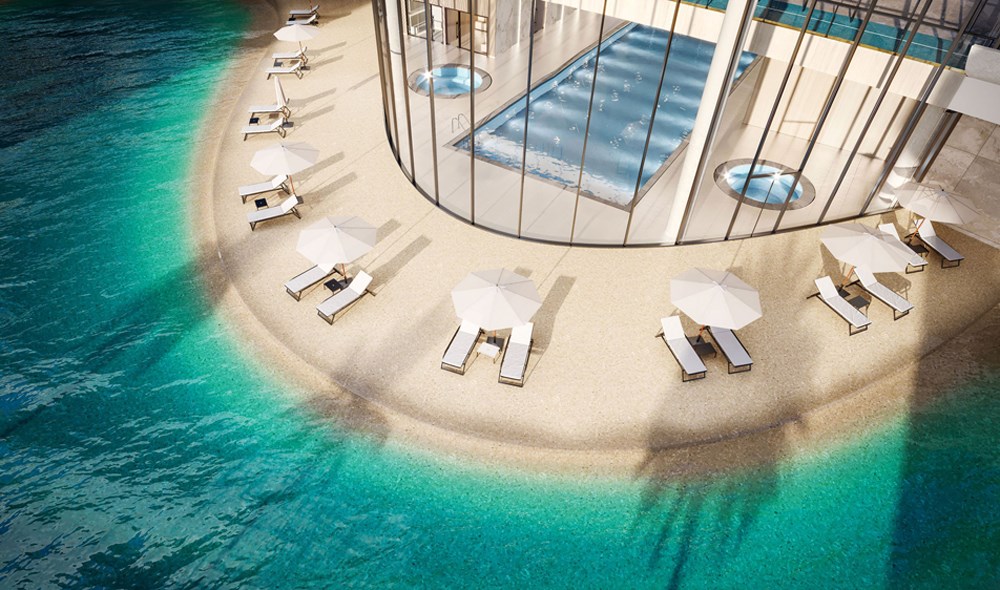 Burnaby buildings offer a sandy beach, indoor bike path
Burnaby developers keep going the extra mile with amenities.
As single-detached homes in Burnaby become more affordable — the benchmark price has now hit $2 million — people are turning to condos to spend their money on.
And the reasoning seems to be good, at least to me.
Owning a house means constantly maintaining and upkeep, which at my age – 53 – is not so appetizing.
But another lure these days is the incredible effort to add sick amenities that mean you don't have to give up comfort by moving into a high-rise.
Concord Pacific in Burnaby unveiled last summer what it calls "the world's largest and most comprehensive bike amenity ever planned for a condo development."
Once built, Concord Metrotown will house an accessible facility of more than 50,000 square feet that will house several areas reserved for cycling enthusiasts, including a dedicated elevator only for cyclists to transport their bikes. There will also be a gear room stocked with enough tools to make Tony Stark proud so riders can repair and maintain their bikes, and an indoor bike loop for riders to pedal and exercise if the weather is bad.
Talk about catering to an audience.
Concord Pacific also recently announced plans for the next phase of its massive Brentwood development to be called Oasis.
The centerpiece is a 120,000 square foot outdoor waterfront and running track. This, along with 30,000 square feet of interior amenities, is part of the front park phase of the major 26-acre development located south of the Lougheed Highway between Beta and Delta Avenues. The project currently has four towers under construction which are expected to be completed by the end of 2022.
Oasis would be three additional towers with 900 residences.
Inspired and inspired by resorts such as Hilton Village and the Waikiki Beach lagoon, this bright 2.75 acre wellness getaway will feature a 400m walking track/path on the upper level and a garden above overlooking a relaxing lagoon on the lower level. The beach experience can be experienced and viewed from the development's indoor pool. There will also be a bowling alley added to the recreation center as well as a full gym.
So, of course, no garden, but you have an amazing swimming pool and sandy beaches to relax on when the weather is nice.
Follow Chris Campbell on Twitter @shinebox44.