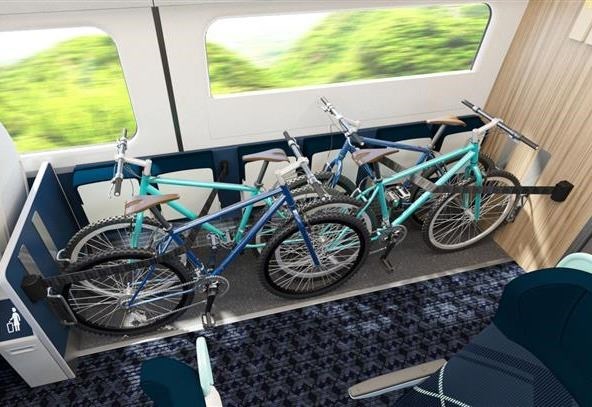 A bike bargain for ScotRail customers
ScotRail customers who like to explore Scotland by bike are seeing a huge increase in the number of bike spaces on trains.
The aim is to encourage tourists, cyclists, outdoor enthusiasts and local commuters to ditch the car and use the train to get them outdoors and discover some of the most beautiful parts of the country.
In 2015, there were 932 bicycle spaces on ScotRail trains. Now there are 1,406, a 34% increase.
And even more bicycle spaces will be deployed during the summer of 2022.
The last few months have seen an incredible acceleration of the project with 140 additional seats installed on the fleet of 70 Hitachi Class 385 electric trains.
This means that all ScotRail trains now have spaces for bicycles and, by the end of August 2022, a further 100 spaces will have been installed on the train operator's fleet of Inter7City high-speed trains, bringing the total to 1,506 – up to 574 places over the number available in 2015, a 38 per cent increase.
As with most companies, progress slowed for two years during the height of the coronavirus pandemic, but the figure exceeds the commitment made in 2015 to increase the number of bicycle spaces by 500.
It will come just one year after the launch of ScotRail's Highland Explorer service on the West Highland Line.
Working with Transport Scotland, cycling groups and outdoor specialists, the ScotRail design team came up with an innovative solution to accommodate up to 20 bikes and bulky sports equipment in a dedicated carriage, a first of its kind for the British rail network.
ScotRail has also teamed up with Sustrans Scotland, a charity which provides advice, support and funding making it easier to walk and cycle for commuting, to produce a series of 'How To' videos, giving a step-by-step guide step. to use the new cycle spaces.
The videos are available on the ScotRail website
---
Do you want to react to this article ? If yes, click here to submit your thoughts and they may be published in print.
---