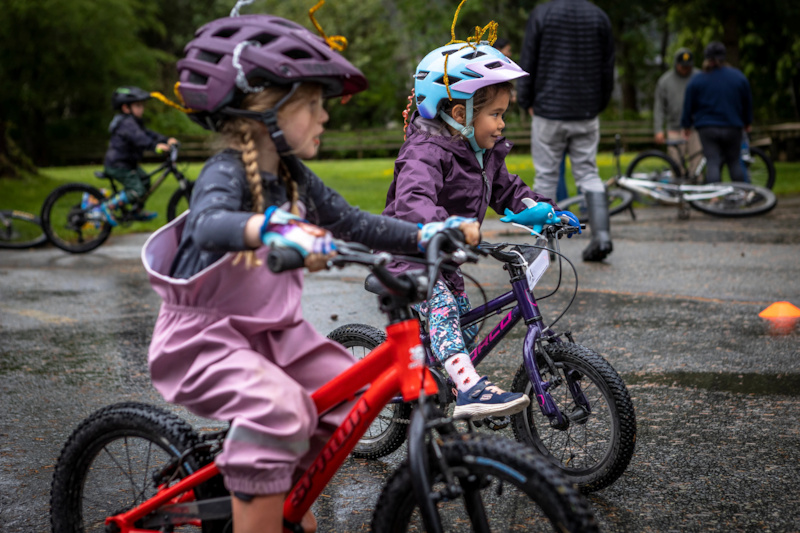 3 Stories From Take A Kid Mountain Bike Day
Words by IMBA Canada
Do you remember the first time you went mountain biking? Did you know what mountain biking was? Were you afraid? Excited? Confused?
Or were you too young to remember?
If you fall into the latter category, you can probably thank an adult who took you mountain biking as a child.
It is thanks to this new generation of cyclists that mountain biking communities grow and prosper. Kid's trails mean beginner's trails, opening the door to new riders of all ages and backgrounds. Kids' events bring adults and kids together, showcasing mountain biking as a family activity, a side of the sport not often featured among tail whips and high-pivot crawls. And as with our own riding groups, children learn from their peers. As they watch their friends succeed, kids are encouraged to try new things, spreading joy as fast as Frozen's unauthorized lyrics ("Drop it! Ditch it! Let the toilet overflow!" ")
For the first time since 2019, IMBA Canada hosted Take A Kid Mountain Bike Day (TKMBD), an international event that encourages adults and organizations to introduce mountain biking to kids. Established in 2004, the event celebrates the life of Jack Doub, an avid teen mountain biker from North Carolina who died in 2002. IMBA Canada provided event support to eight different organizations this spring, spread across Earth- Newfoundland, New Brunswick, Ontario, Saskatchewan, Alberta and British Columbia, with more events coming in the fall. In total, nearly 270 children participated in a TKMBD event, and of those pre-registered, 26% were first-time mountain bikers and 41% identified as female.
Thank you to national sponsors Shredly and FreeYumm for their generous donations of prizes and snacks to all locations, and a big thank you to all of the other businesses that supported local events.
So what happened during these events? We'll let some of the organizers speak for themselves.
Take some tissues.
Big thanks to Shredly for sending a gear bag, buff, gloves, youth tee, and adult + kids shorts gift certificate to each location. Another big thank you to FreeYumm, who sent enough of their allergen-free oat bars to supply all the little bikers, and even some hungry parents! Photo credit: Bancroft Broken Spokes Cycling Club, Bancroft, Ont.
---
Eastport, NL
Words by Andy Poole, Holy Cross School
Our small school in a rural community started mountain biking about 12 years ago. We didn't know anything about biking, so we borrowed bikes dumped in the spring cleaning heaps and off we went. Since then, we have partnered with amazing people and programs including Bicycle Newfoundland and Labrador, municipal (Eastport and Glovertown) and provincial governments, Sprockids and IMBA. We have developed a program that has become a fan favorite in the spring and fall in our school and communities. It has evolved into a shop for school bikes, bikepacking, groceries and more.
I now see that we are building an active cycling community; every year i see more kids riding bikes, wearing helmets and enjoying the outdoors. A vital part of our program has been an annual celebration so the school, community and sometimes outside groups can see how things are developing and how much the kids love their bikes, TKMBD has been helping us do this for many years. years. It's great to have prizes and snacks, but more importantly to be part of something bigger.
Shirt courtesy of Shredly. Photo credit: Andy Poole
I have to tell you a little story, and you'll have the photo to prove it. Yesterday we did our walk to school and a little girl in grade 2, who has been doing so well so far, tried some small, gently sloping descents we were doing to end the session. I went over things like leaning back, flat pedals, how to brake, etc. However, when she got to the first two rolls and then the third, I saw her eyes widen in panic, her feet detached from the pedals…and in an instant she was on the ground. When I got to her house, she had a terrible nosebleed. After an hour of cleaning her up, calling mom and calming her down, her clothes were covered in blood. I didn't get a chance to do the prizes because of the crash, so before they left I ran to the box and found a nice purple shirt that fit him perfectly. Today when she started school, I went to see her, checked her scratches and asked her how she was feeling. Her response: Without a word, she unzipped her hoodie and pointed to her new shirt… "Bold & Brave!!"
Photo credit: Andy Poole
---
Pemberton, BC
Words from Ming Sartee, Pemberton Off Road Cycling Association
The Pemberton Off-Road Cycling Association (PORCA) and the Indigenous Life Sport Academy (ILSA) co-hosted a Take A Kid mountain bike day for the first time. I wasn't sure what to expect as I sat at the breakfast table that morning watching the rain fall.
Luckily the rain cleared up in time and we got our stunts out, letting the little ones tear up the course while the bigger kids hit the trail with our coaches. The next hour or so was a free-for-all of snacks, bikes, bug hunting and puddles. Trail runners returned from their adventure elated and hungry, munching on ice cream sandwiches as prizes were handed out.
From where I stand, the event was a success. We hooked up a new rider, who will join the ILSA mountain bike program this summer, and ignited a spark in others. Many thanks to Shane Roy for donating his talent to photograph the event, and to PVTA trail builder Darren Nicoll for talking about the importance of beginner trails and how to defend them.
In a town like Pemberton, we take for granted what it means to be a beginner; for many, this phase is far behind them. Watching kids ride bikes takes us back in time. We feel their pain, grief, fear, worry, overconfidence, excitement and joy, reliving the ups and downs of taking on a new challenge with your friends. Beyond skills, this is what I hope we instill in our children: to love your community, to love the outdoors and to do hard things.
But, as most things go with kids, you can have great ideas, but you never know what sticks. After refusing to ride a bike all morning, my daughter declared her desire to go trail running — the first of her life. When she returned, far behind the rest of the pack, guided by her father, she was barely able to get off her bike and said little as she made her way to the ice cream sandwiches . Later that afternoon, as we cuddled up on the couch, she reflected on the morning and said, "I feel like I'm five inside." She is three and a half years old.
Photo credit: Shane Roy
---
Calgary, Alta.
Lyrics by Duncan Milne, Calgary Cyclemeisters
I was lucky enough to attend one of the events in Calgary on May 19th. That evening, a handful of enthusiastic young cyclists gathered at a local park to learn and improve their mountain biking skills in a fun and safe setting. As you would expect, we have worked on a series of safety rules, drills and drills introducing these new riders to the basic skills that will allow them to enjoy riding safely.
Many things that we take for granted as adults, such as the strength to control our bikes, using our brakes or coordinating movement, were a challenge, especially for the younger riders in the group. Some riders were using hand brakes and derailleurs for the first time or riding new bikes. Even the inherent distraction of young children contrasted with the clumsy self-awareness of teenagers offered further insight into the experiences I had grown up with for a long time.
However, the biggest moment of the day involved a slightly built six-year-old child who was scared to tears at the thought of descending a small embankment. Mountain biking, like life, forces us to find new ways to trust others, develop strategies to face our fears, and find the resolve to overcome challenges.
Faced with a frightening descent, the cyclist lowered her bike in tears rather than try to ride.
Watching this unfold, I asked her to sit down with me and discussed the different exercises we had done and how each of those things gave her the tools she needed to successfully come down. hills like this. Still in tears, she nodded and agreed to try another hill.
We agreed that she would be willing to try the bottom section ("…because obviously starting from the top was crazy…") and I would hold her bike until she told me to let go and she would come down . Unsurprisingly, the rider was immediately successful and her confidence increased so that with each attempt she was climbing up the hill, making her descent a bit longer and through steeper sections. Before long, she was descending a significant hill and managed to get around the obstacles. At this point we stopped and I asked her if she had noticed what had been achieved.
Photo credit: Duncan Milne and Spencer Milne
As an organization, IMBA Canada is committed to developing new fun and safe opportunities for cyclists. Supporting TKMBD provides children with the opportunity to learn mountain biking skills, in an environment that does not rely on children ignoring their parents, as is so often the case.
You should take a child mountain biking.
You should support IMBA Canada.
You need to support your local trail networks and clubs.
You should also support your local bike shops and sponsors like Shredly and Freeyum, whose support makes events like TKMBD possible.
Taking the kids outside will be good for them, but it will be great for you. Given the choice of outdoor activities, mountain biking would be mine.
Photo credit: Duncan Milne and Spencer Milne
---
More TKMBD events are coming in October! Keep an eye on your events organized by your local organizations or organize an event yourself. Want to see more events and initiatives like this? Support IMBA Canada, a national non-profit organization dedicated to ensuring that Canada is
home
to a strong and vibrant mountain biking community, riding a network of world-class mountain biking trails through education, education and work on the trails. Learn more at www.imbacanada.com, then donate or become a member.